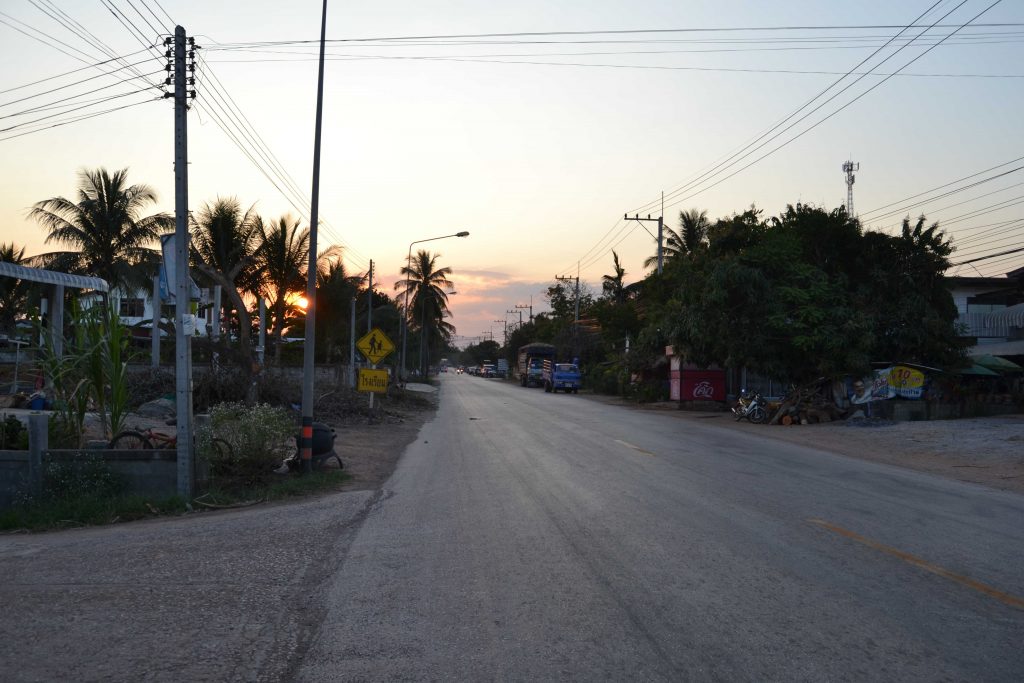 My first impression of Thailand was that it was spectacularly unspectacular. Flat, hot and light traffic on pretty well maintained roads – perfect cycling conditions and I got back to my old European speed.  It's hard to describe but I think a big part of the exhaustion in Asia is just caused by having to pay so much attention to all kinds of things  and all the time, not to fall into some ditch, not to be involved into some crazy car accident, not to fall off some cliff, not to forget to answer when somebody waves hello. I only realized that in Thailand because there everything is getting so much easier.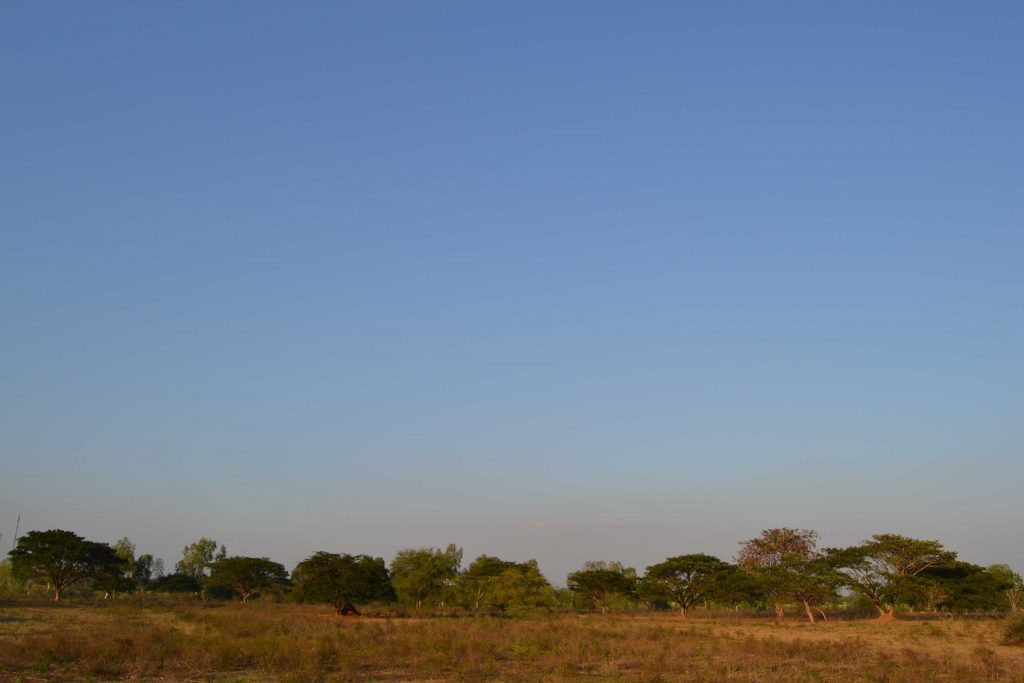 There is really not a lot to see as you ride for the first 400km almost only through sugar plantations. I read on Wikipedia that Thailand is the world's fourth biggest producer. So, 80% of the traffic are trucks driving around sugarcane.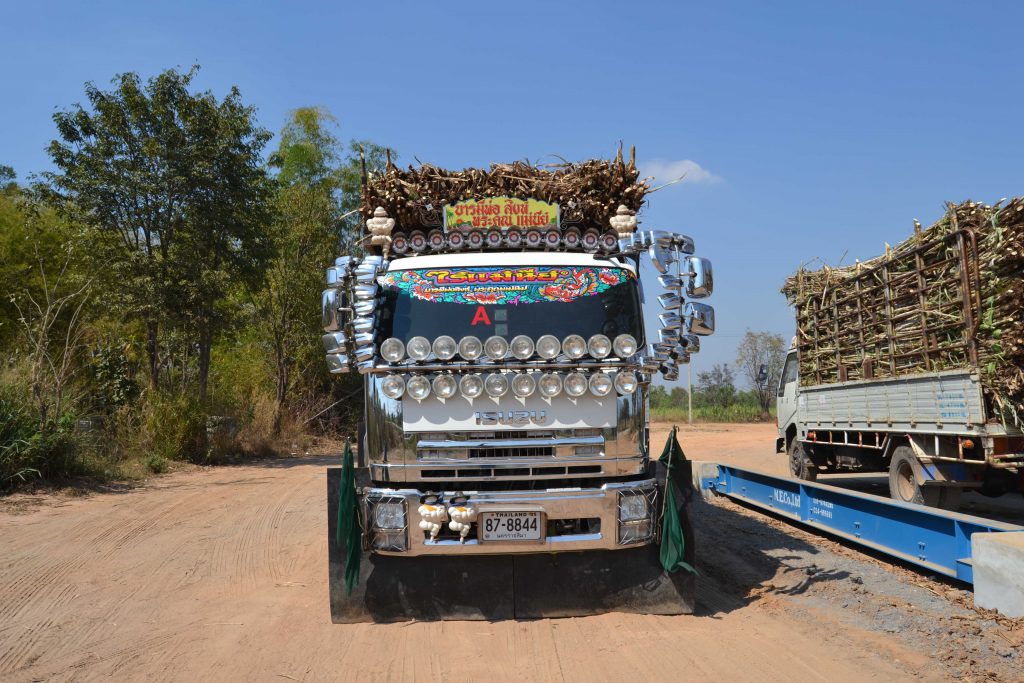 Camping conditions are excellent, only when I had a scorpion next to my tent on my second night I thought I should be a bit more careful in the future. I also ran over a few snakes on the road and met some really nasty insects. However scorpion ran away before I could take a picture but I met him again a few days later on Khao San Road in Bangkok. This guy stayed two nights with me in the tent before I found out that he was not as harmless as I thought, then Skolopender had to move out.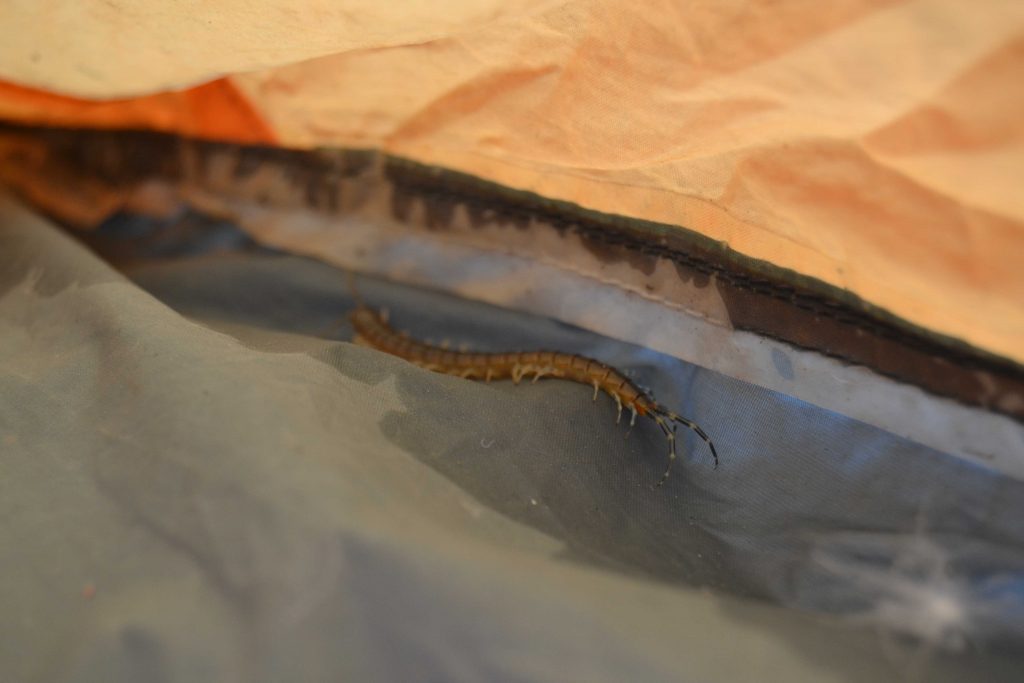 About the food: Like in Laos you can't expect a big variety in rural, non-touristy areas but at least the soups are tasty, still a little small though. And always a bottle of fish-sauce in the table!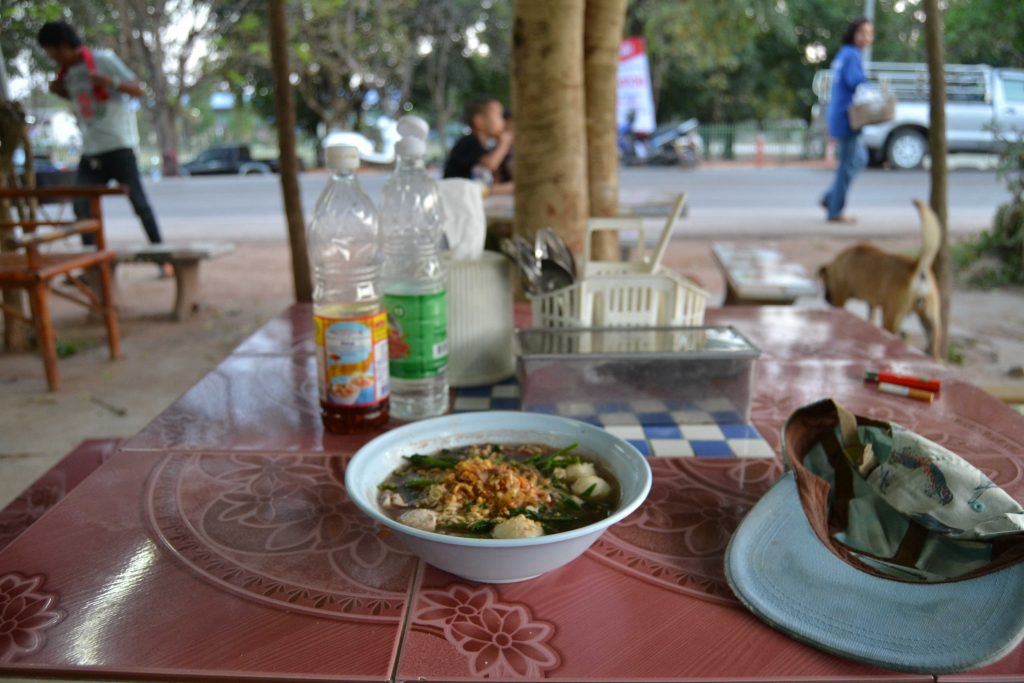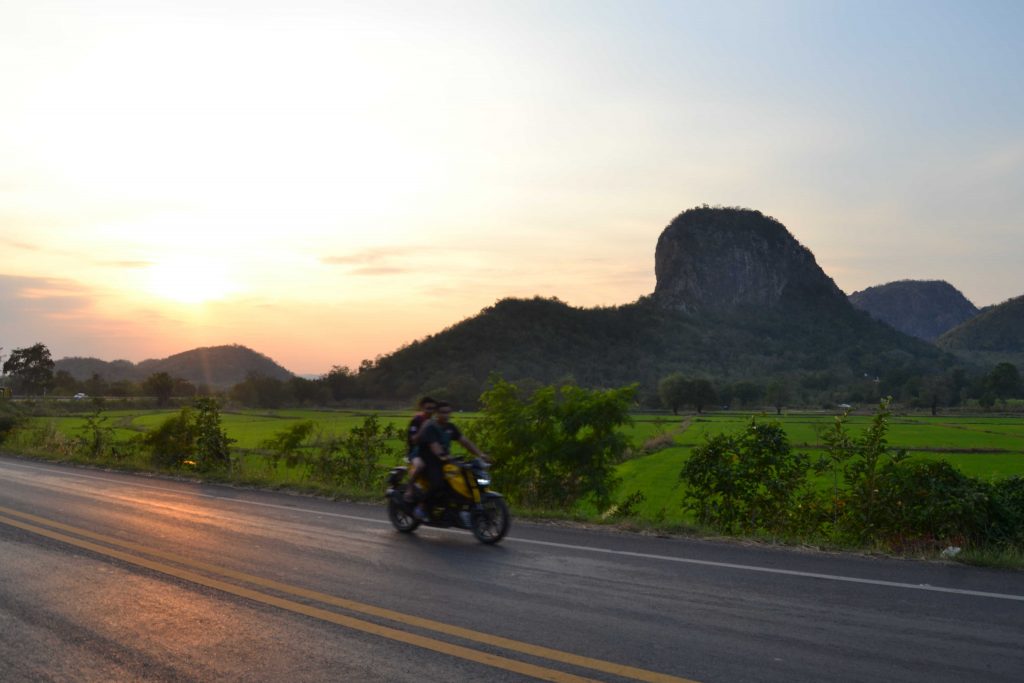 I already knew from other cyclists that cycling into Bangkok was not going to be fun, so when the busy traffic started 60km outside of the city I decided to get it over with quick and made the 190 kilometers full. So, I arrived in Bangkok at 22 pm totally wrecked, slightly sun-burned and with my shirt stiff from all the salt. I think I drank 9 liters of water on that day.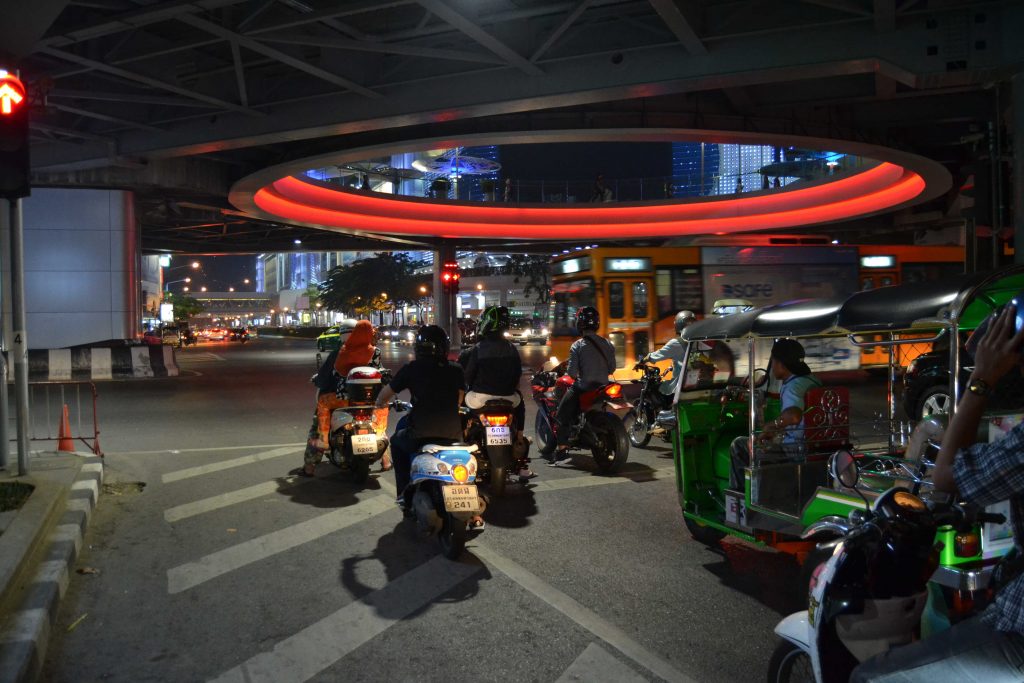 Cycling in Bangkok I spent a lot of time waiting on traffic lights in between a crowd of motorbikes, smelling their exhausts. But while I found it terribly hot, for Thai people it's winter and some of them even wear jacket and jeans. This is in China Town on the way out of Bangkok.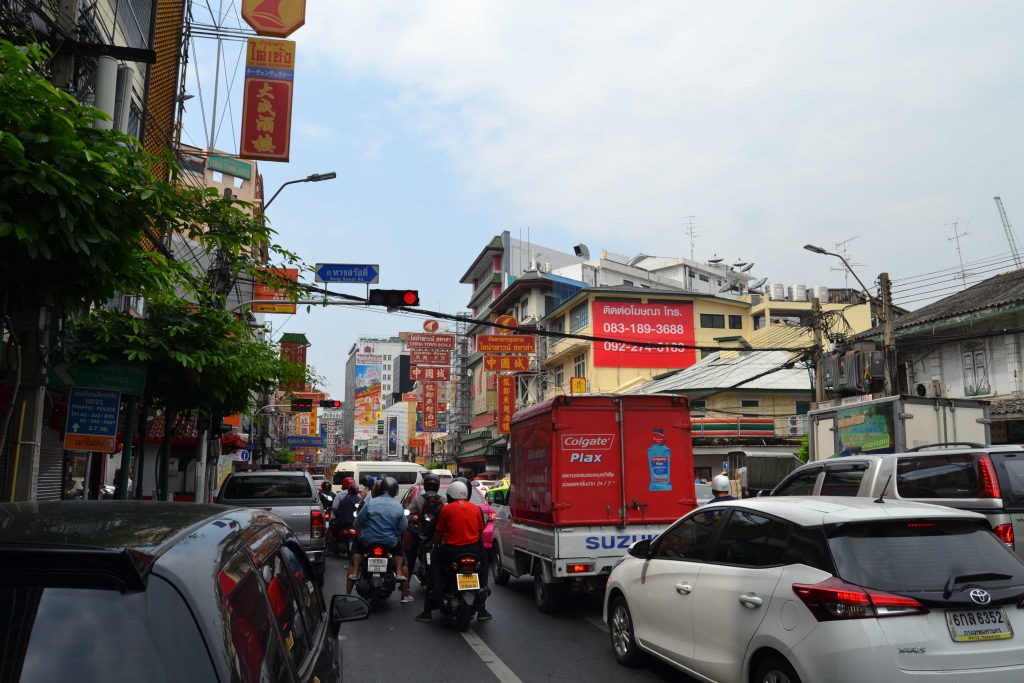 This is also on the way out of Bangkok. You see, lots of motorbikes and a lot of standing around. I think it's a Buddhist thing to put food sacrifice somewhere on the road. They even put a straw, nothing halfway!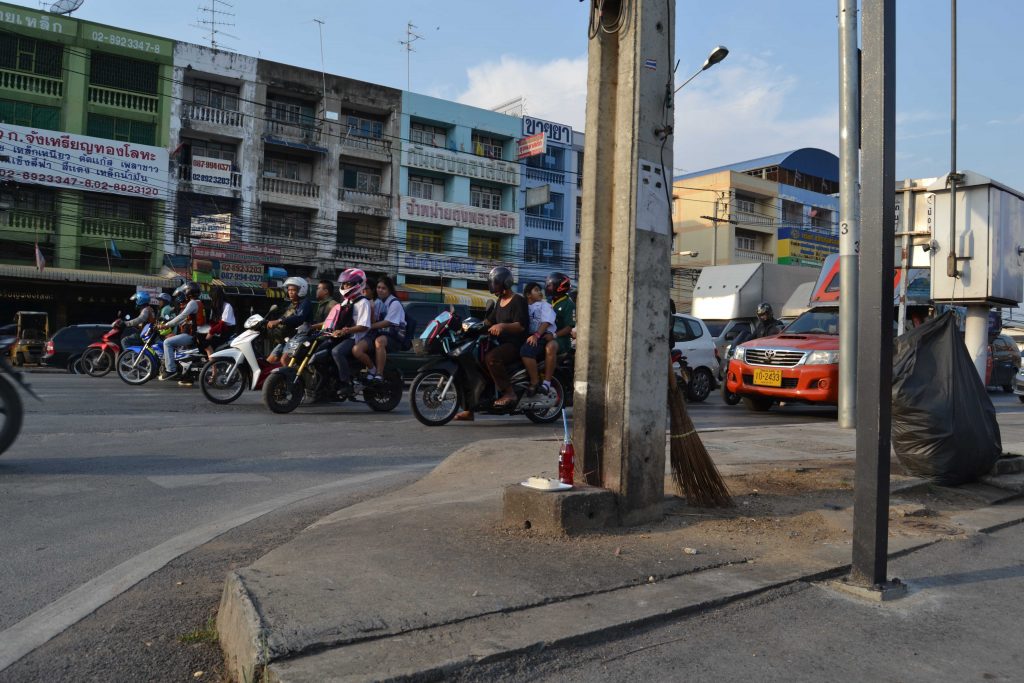 When I finally got out of Bangkok mother nature decided to provide me with a decent head wind for the next 500km (and still ongoing). This photo I took in the salt fields south of Bangkok, where you are totally exposed to the wind and there's no shade at all. I have to mention that this wind was warm and not refreshing at all.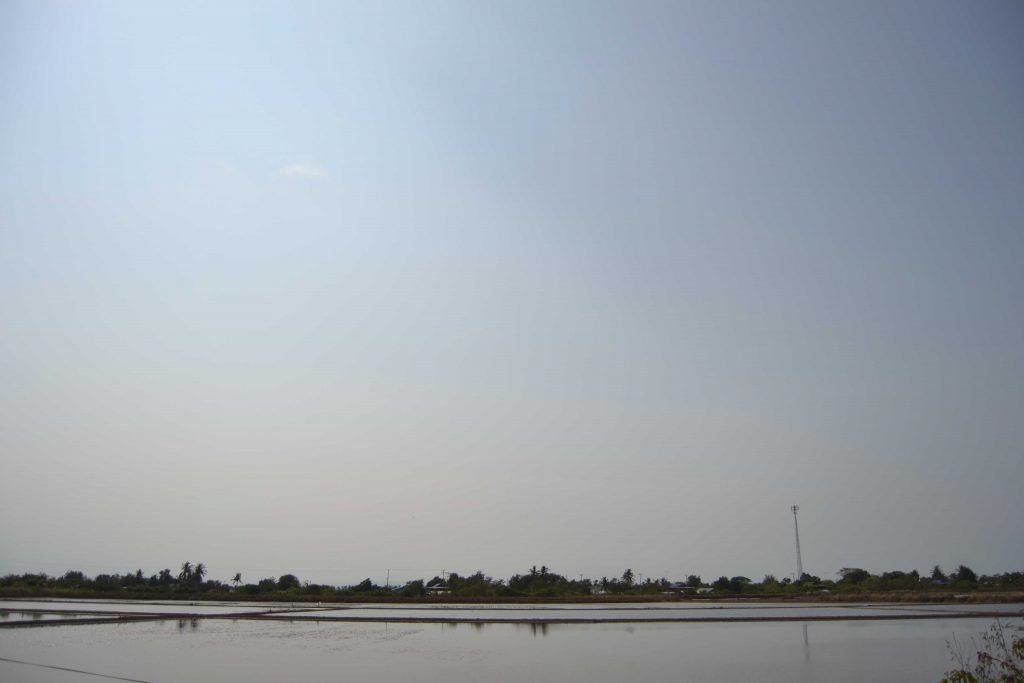 Further down the coast it gets emptier except for a few very busy tourist hotspots. Cycling down the coast of Thailand was like cycling in paradise, flat roads and one empty sandy beach after another, plenty of space to pitch the tent and go for a swim before and after breakfast. I spend 2 days cycling with Ole from Denmark who spends the winters of his pension on the bike in warmer climate.
Ok, that's enough. I know winter is raging in Europe. One funny thing about Thailand are the monkeys. They like to hang out by the side of the road in big groups. They act a little human-like and seem very cute, but they are not cute at all. If you have food that they want, they will just come and take it and probably scratch you if they sense any resistance, very human-like.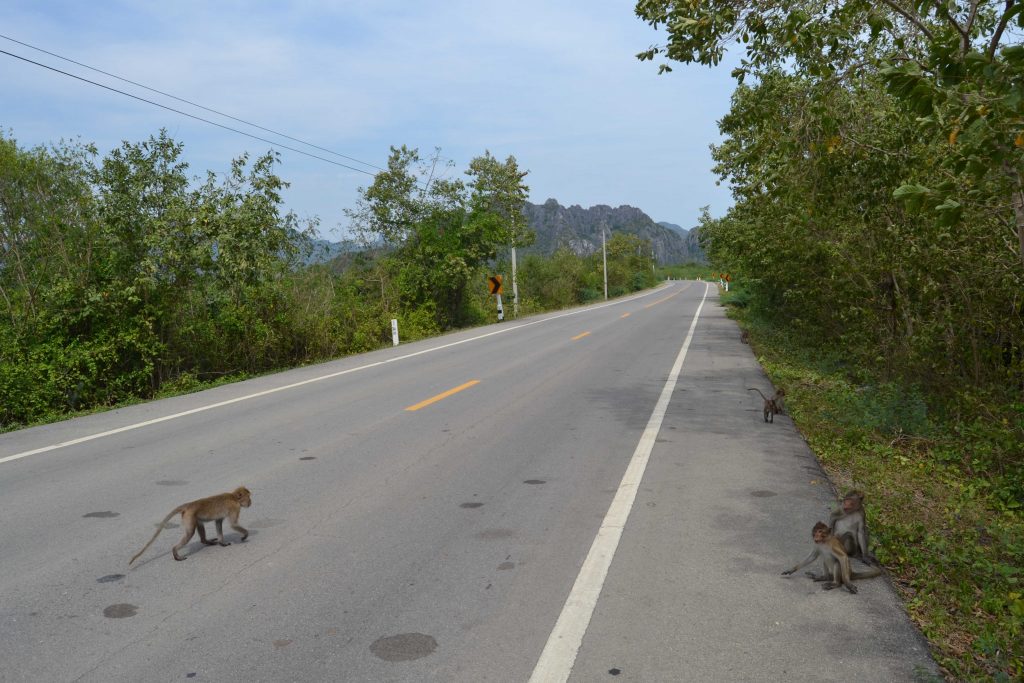 I was always hoping for a heavy rain to cool me off but it never came. This is one of the many rivers that empty into the Gulf of Thailand in the very thin part of Thailand where it's some times less than 20 km from the coast to the border of Myanmar. So, under these clouds somewhere starts Myanmar.
All these beaches and the sunshine and the monkeys along the road made me really lazy. But here I stop being lazy and start recording new songs for the new record that I'm going to record somewhere down the track. The plan is still very vague!
This is also Thailand, in a small town I was asking for a campsite and a young boy, maybe 15, told me I could just camp right where I was between some palms with a lot of rubbish. I should just give him my facebook name and my phone, which seemed a bit weird to me. I was probably just too stupid and naive to understand that he was offering sex and I'm glad I didn't take out my guitar and started playing a song, to make the situation even more embarrassing. Then I realized that the atmosphere in the whole place was really strange. I also thought that nobody cleans the beach from plastic because here the tourists don't come to go swimming.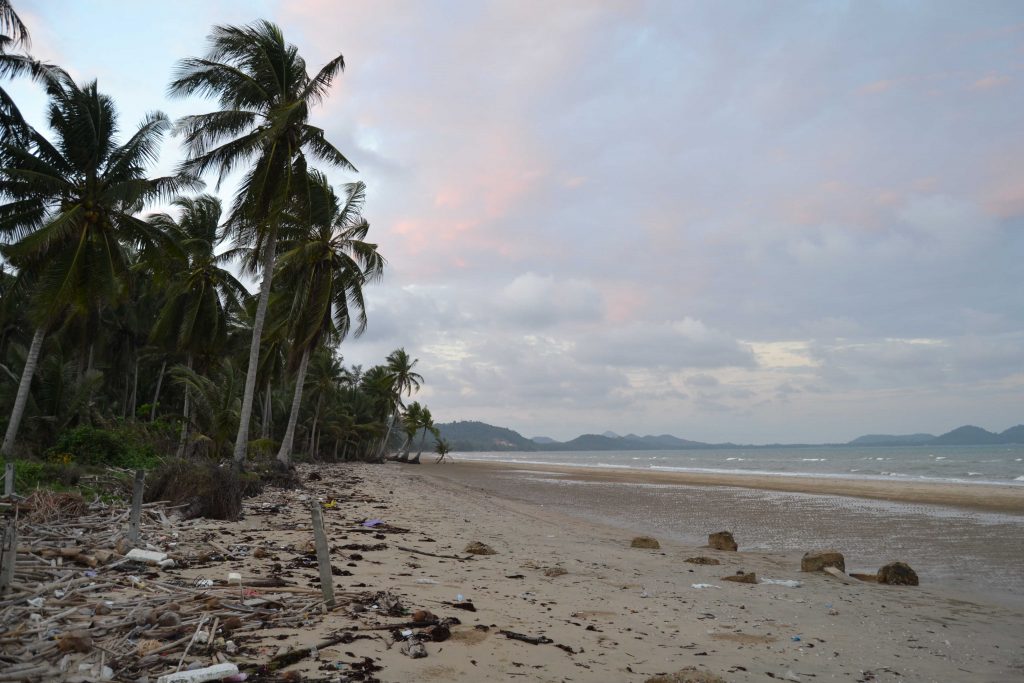 When I arrived in Surat Thani, a pretty terribly drunk guy from the Phillipines chewed my ear that I have to go to an island if I'm already in Thailand and if afterwards I would tell someone that I was in Thailand and he would ask 'which island?' and I would say 'none!' that would be very bad. He also used the f*** word a lot and things like 'you know what I'm sayin'!' So, as I'm always up for recommendations I decided to have a rest day on Koh Phanang, one of the tourist's hotspots. It was very interesting to meet the European crowd but nothing you wouldn't find in Görlitzer Park in Summer. So, all in all I can say that you can very well miss the island in Thailand and you shouldn't listen to people who say the f*** word too often. This is not Koh Phangang but a little island the ferry passed by.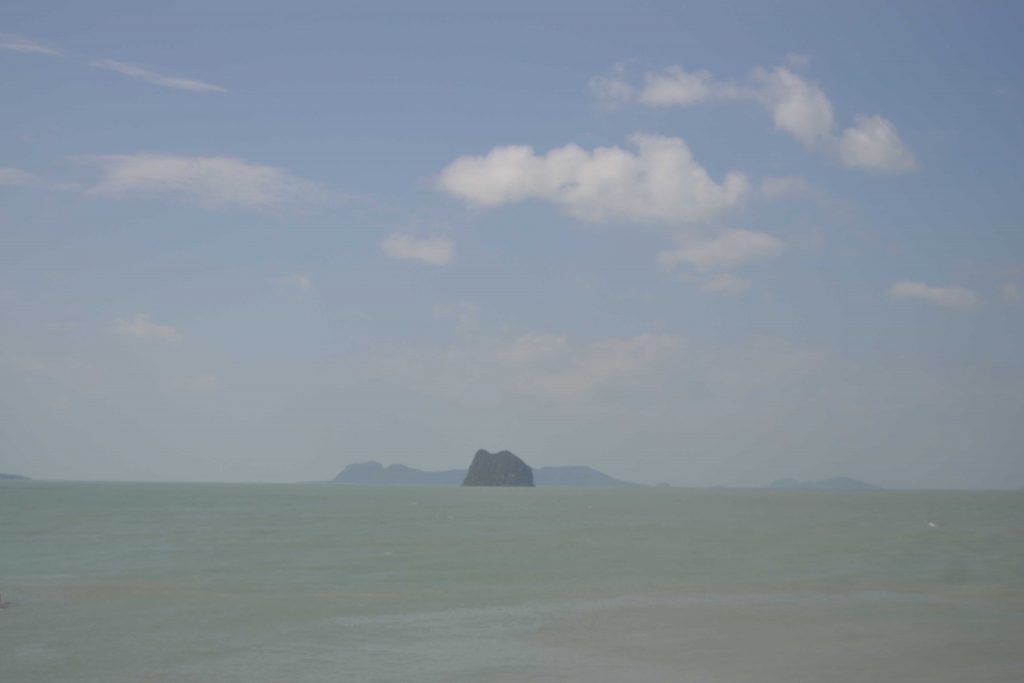 The further you get south the higher the waves get as the Gulf of Thailand opens towards the South China Sea and with it comes more and more plastic trash floating in. It's not that I haven't read about it before but to see it in real life is another story. You can use your reusable coffee cup or bring your cotton bag for shopping but that won't be able to compete with the economic force that spits out all this plastic I'm afraid.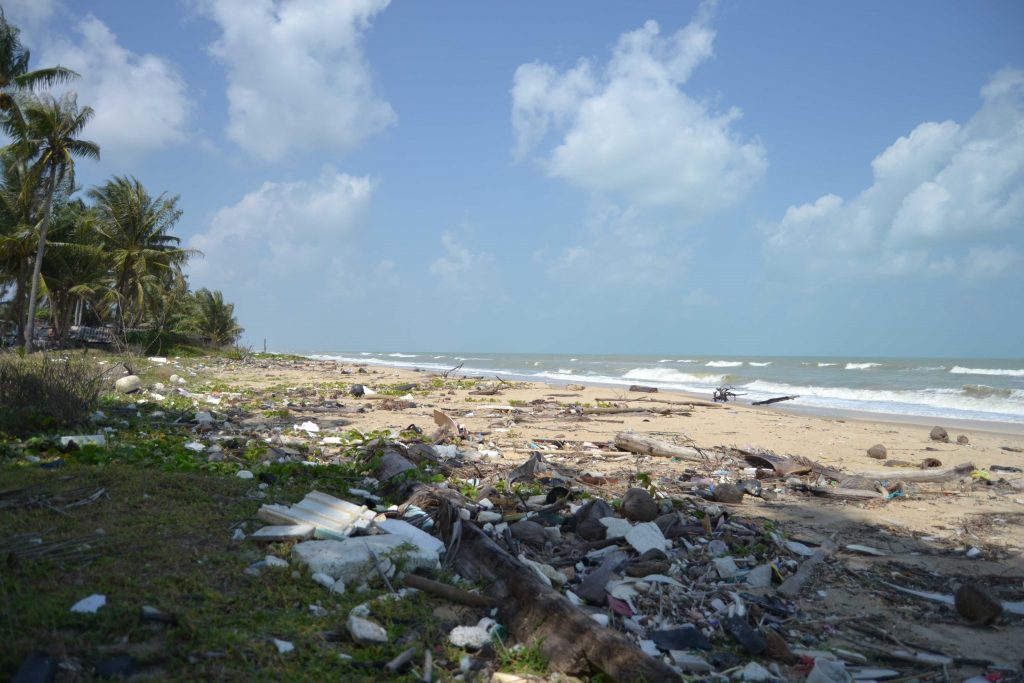 This is on the road close to the Malaysian border, I'm afraid I forgot to mention so many amazing things about Thailand, the night markets, the happy people, the energy drinks, cooling off at 7 eleven, the adoration for their King and being told to stand up during breakfast because the national anthem is playing. Thailand was a real holiday from the exhausting cycling over the last month.