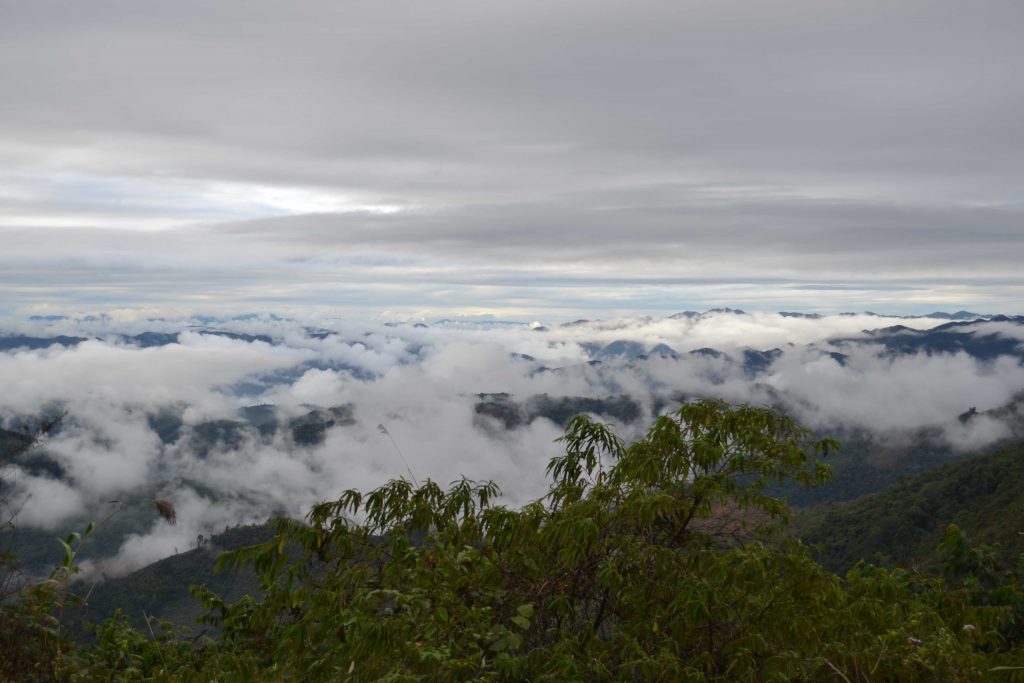 Crossing the border to Laos I was reminded that in Laos everything might not be in best order when the border police asked to pay all kinds of made up stuff, among other things they asked me to pay for the entrance stamp which is obviously a scam but what can you do? They must be really bored up there spending their whole time thinking about how to rip of people. But it was already getting dark and since I didn't want to camp on some unexploded ordnance dump near the border I payed my extra 9$ and didn't say goodbye.
Besides mililons of unexploded bombs that America kindly dropped over Laos during the Vietnam War you can also pick up all kinds of awful diseases in Laos. So, I was a bit paranoid in the beginning but after a while I figured out what is panic-mongering and what is probably really not a good idea.
I also expected terrible road conditions but was positively surprised. The way down from the border on the Laotian side was a real cruise.
In this pink cabin I spent my first day in Laos cause it rained literally the hole day. But I was not alone, I had a group of mice as guests who went into my stuff at night and ate wholes in all my pockets. Thank you, mice!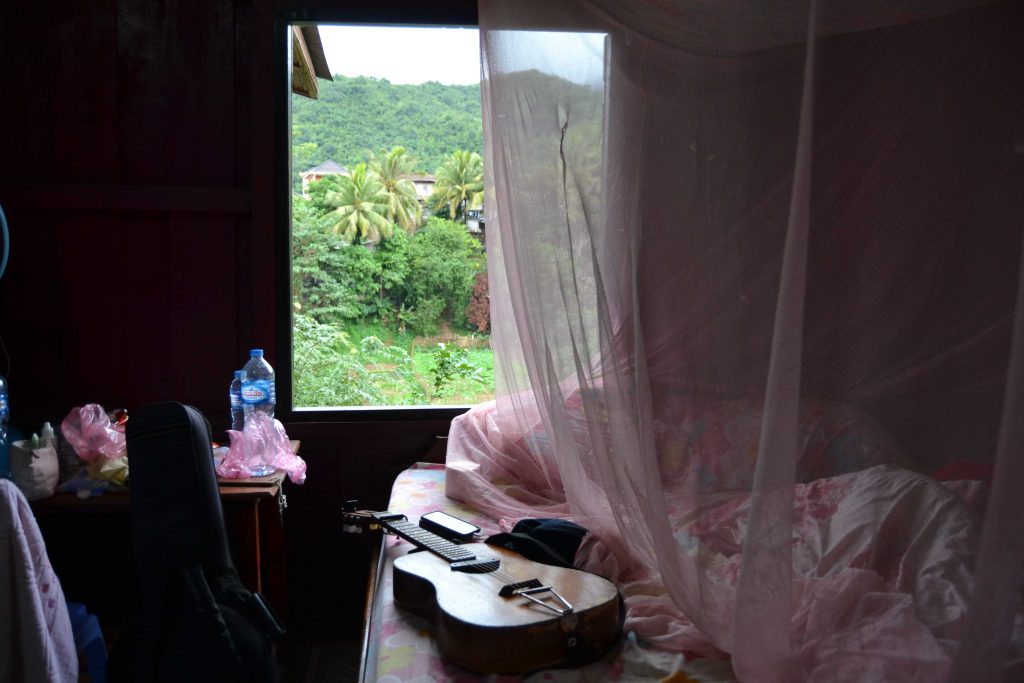 The next day I kept on cycling even though it was still rainy but the forecast predicted rain for the next eight (!!!) days.
For the first nights I stayed in dodgy guest houses but then I thought that the risk is maybe higher to get some disease there than to actually step on some rusty bomb while camping. Also 5 days of rainy Laos weather completely destroyed my guitar string, I'm wondering how much of a bomb will be left after 40 years of this. And by the way at altitudes above 1000m you get a beautiful and malaria-free sunrise.
Laos is a very empty country which was very nice after China. Just a small village every once in a while where incredibly cute children, barely able to walk, were waving from side of the road. Really so cute that I didn't even dare to take a picture.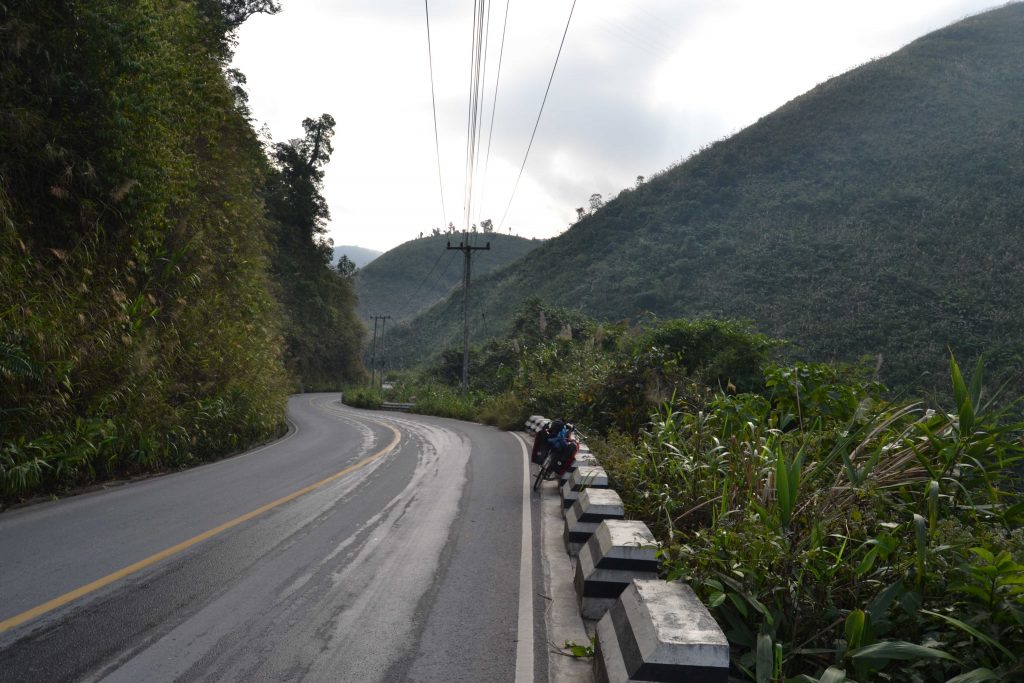 When the sun made it through the clouds it got super hot, this is already as far south as Sudan.
In Luang Prabang I finally put new strings on my guitar, also the wooden body is suffering from the humidity I think. I made photos to keep track of the cracks, lets hope that it's nothing serious. But I'm a bit worried.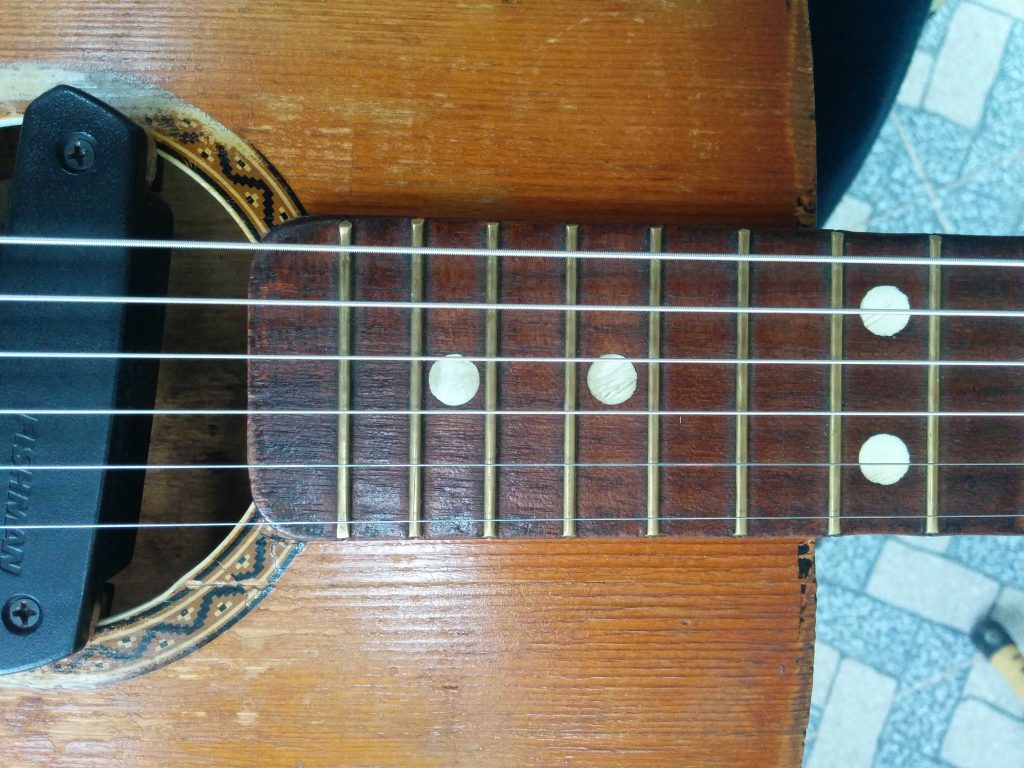 So, in Luang Prabang I thought it's finally time to stop procrastinating and so I went to the local bike shop and borrowed the tools to center my front wheel, I wanted to do that already since Berlin because I can't really drive free-handed, my bike is always pulling to the left. But centering the front wheel didn't entirely solve the problem. I might have to center the back wheel as well but I'll do that later ( I just love procrastinating.)
Guys, if you're going on a long bike trip, don't built your wheels yourself unless you know what you're doing! Or just accept that you won't be able to ride free-handed.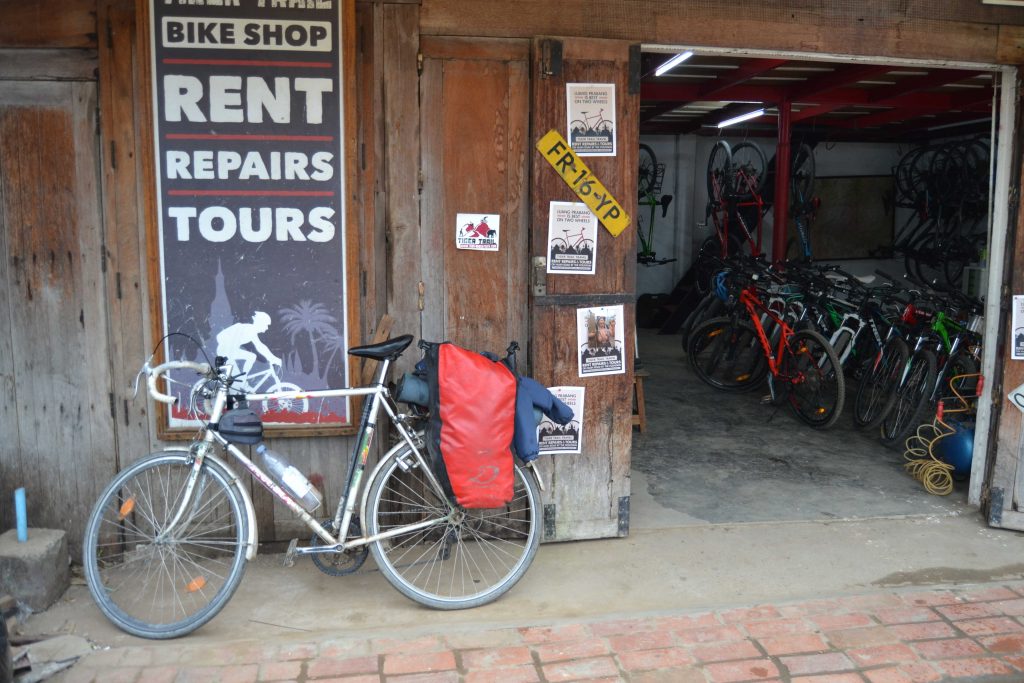 I also asked the guy working at the shop which road to take to the next town Vang Vieng, he pulled out a huge map and pointing at it he said that there's two roads, the old and the new one and that the new one is easier, shorter and more beautiful. Well, that makes the decision easy, I said, and we both laughed. Hahaha. But then he must have mixed up new and old, even though his English seemed pretty alright (he was British). So, I can only tell that the old road is in deed very long and damn exhausting. About the beauty I can't say anything because most of the time I didn't see a lot.
It got bloody cold again and I thought how far south I still have to go until I can finally stow my russian fer hat in the bottom of my bag.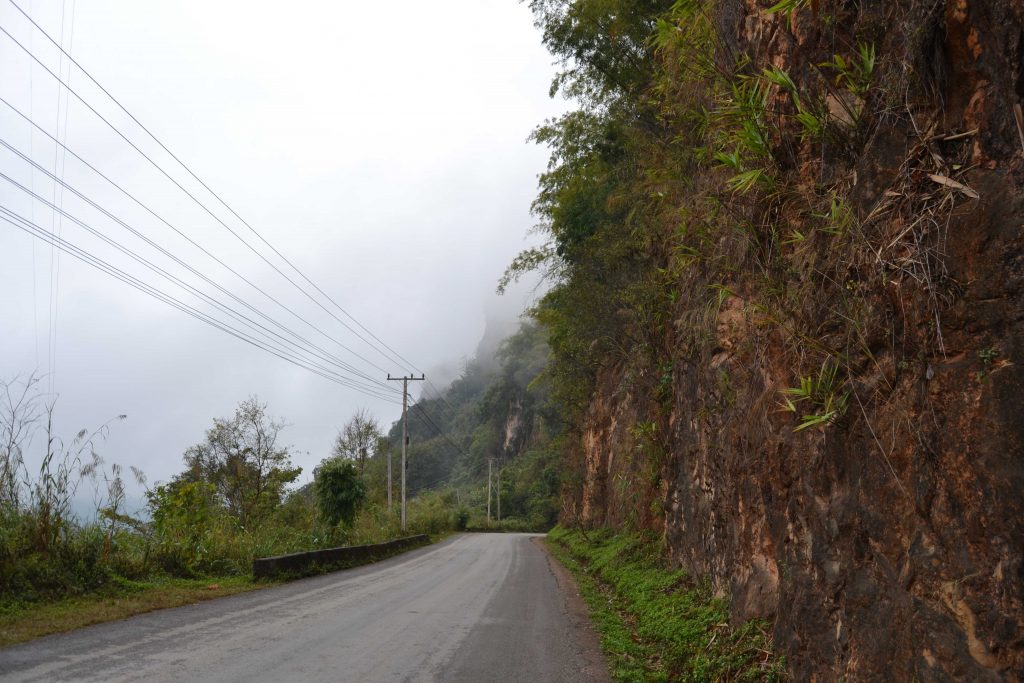 I have to say a word about Laos food. As long as you're in a tourist center everything is fine, the food is tasty and you have a variety of choices but if you come to the countryside (and that is 99% of Laos as far as I can tell) you will most likely only get only noodle soup if you get something cooked to eat at all. And the problem of this country style Laos noodle soup is not only that it is very small, it is also the most boring noodle soup in the world, and they have a pretty even level of boringness across the country. It usually comes with some freshly washed salad that could make the whole thing a little more interesting but since the water in Laos is potentially contaminated you better stay away from the salad.
Here I gave up on the Laotian kitchen and cooked myself instant noodles on the side of the road, of course it started raining during the process but not too bad. Only when a man with his Kalashnikov passed by I remembered that I was on a stretch of a road for which the German ministry of foreign affairs announced a security warning due to armed robberies in the past. I had also asked the bike shop guy in Luang Prabang about it but he just said 'traveler's rumours'. Well, his advices haven't proven as the best. Anyways, the Kalashnikov man didn't seem to be interested in me. It must have been a pitiable sight, a dirty and hungry guy cooking instant noodles in the rain, not worth a robbery.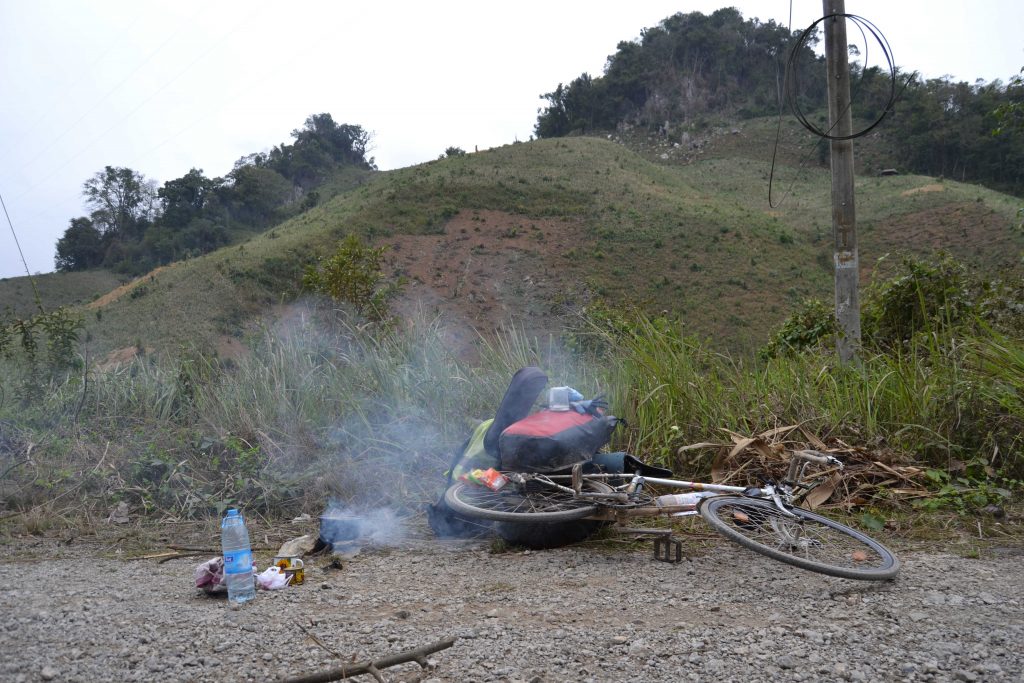 But at least this: Delicious rich taste from real ingredients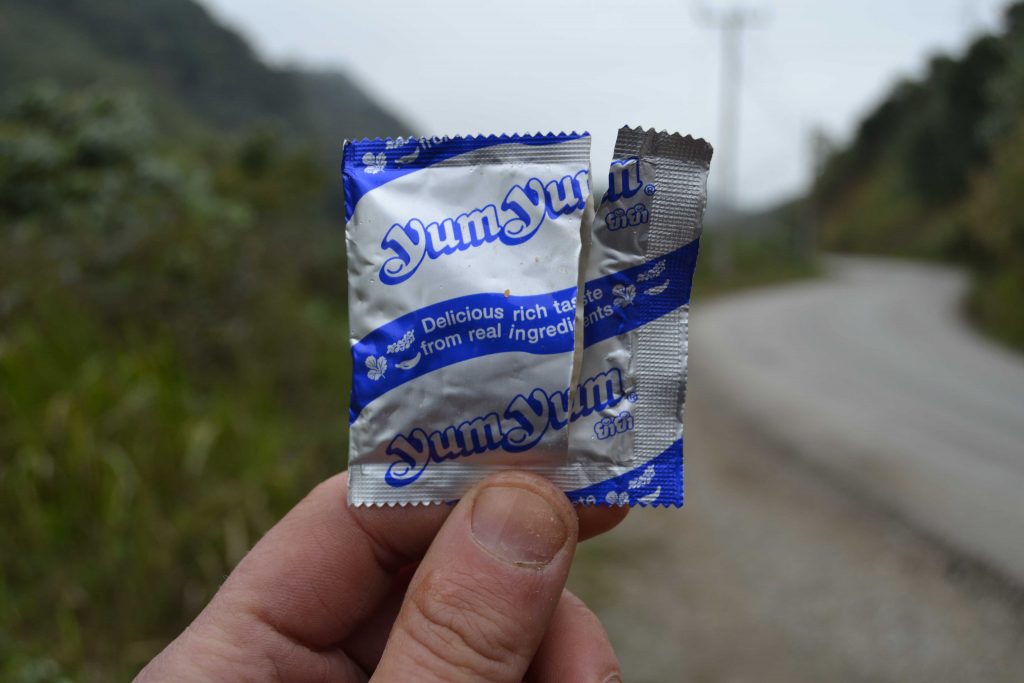 Anyways, at some point even the most unrewarding road comes to an end. Vang Vieng is not worth mentioning, I just had three dinners there and left early on the next morning. From here on it's going to be flat until Singapour, so let me proudly present my last climb in Asia.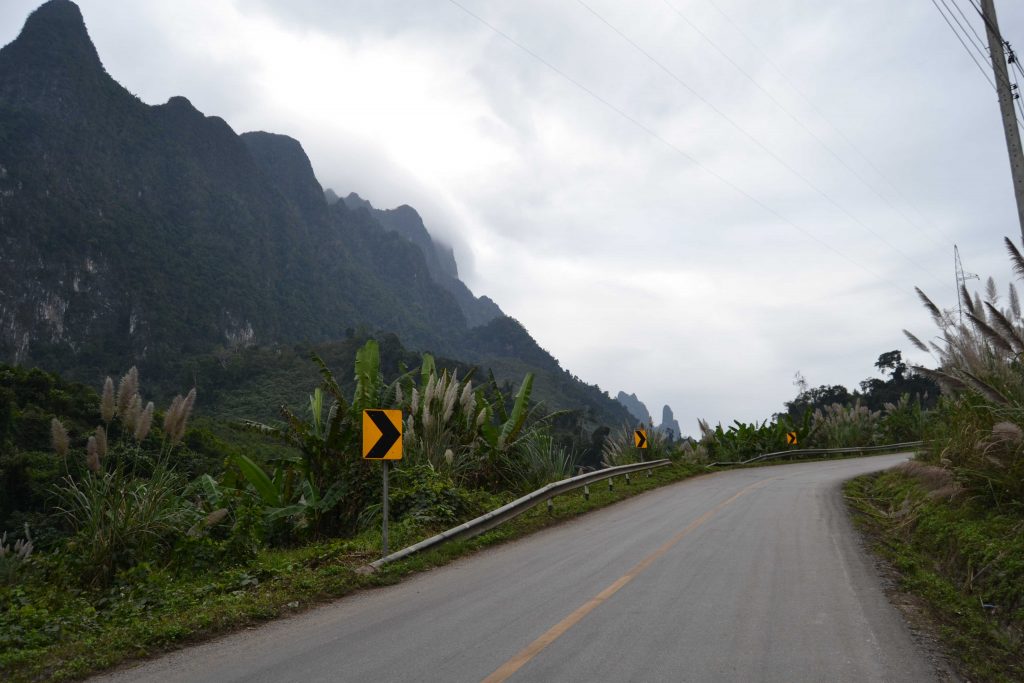 When I played some guitar next to this bridge a guy sat down next to me and listened to me while I was practicing a new song of mine. Soon after two others came on their motorbike and made signs that they want to hear something, so I started playing one of my songs and while I was singing the first verse two more guys came over. So far everything as usual, but when I just entered the chorus I realized that they were all carrying guns or should I better say rifles. In other words I was sitting on a road known for armed robberies playing a song for five men with Kalashnikovs. Damn it, I thought, that's how it's going to happen, how embarrassing. So I skipped the second verse and went straight to the millenial woop part (yes, I have a song with a millenial woop and if you don't know what a millenial woop is you should immediately close that gap of knowledge). The one Kalashnikov guy was enthusiastically playing drums on his motorbike – pretty good timing, a lost talent – if there hadn't been been all these guns I would have called it a magic moment. But when I finished I quickly packed up my guitar and hit the road and they seemed alright with it. So, whether they were some sort of police guarding the street or just distracted from their intent of robbing people by a simple and predictable musical effect – I really can't tell. I think both is unlikely.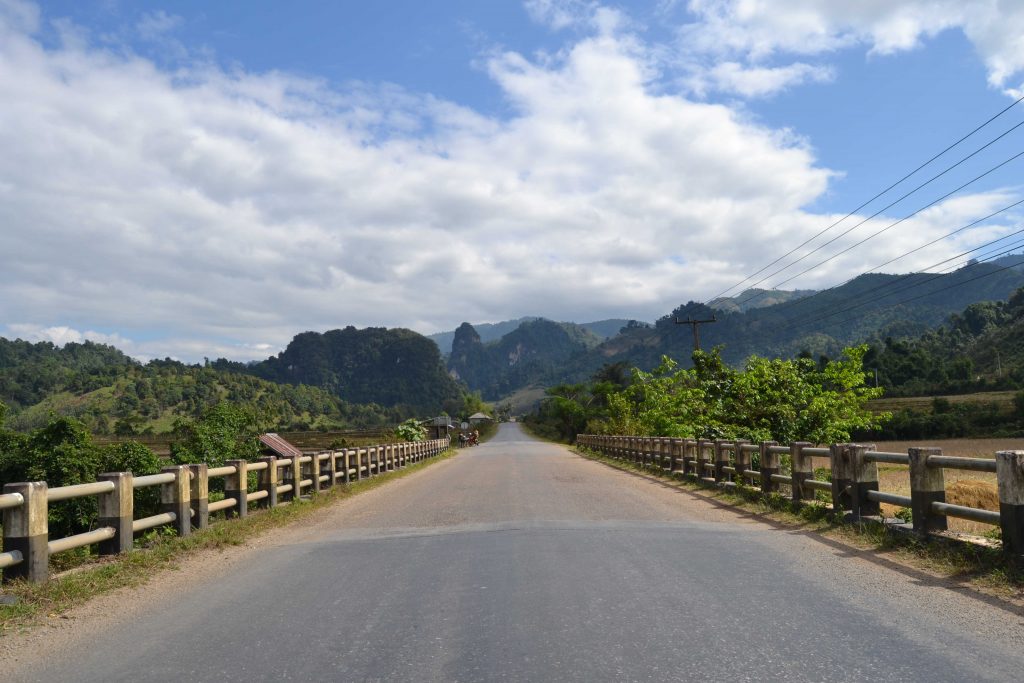 The rest of the way to Vientiane, the capital of Laos, was the flat main road, not a beauty but good to get over with it quick. Cycling 100km is actually not a big deal if you don't have to climb quadrillions of mountains on the way. I made the last 90km in 4 1/2 hours only stopping to drink and eat bananas – bananas in Laos are delicious, small and thick, with a slight strawberry flavour.
In the end I have to say that Laos was not exactly cheap. I ended up paying for a lot of things that were actually not worth the money. So, all the guest houses and tiny noodle soups left quite a hole in my budget and as a farewell my good old knife that I smuggled so successfully through China got stolen from my frame bag in Vientiane.
This is the last picture of Laos, across the bridge is already Thailand. This is not only the end of the Communist world, from here on it will also be left-hand traffic. But first I illegally left Laos because I simply missed the immigration both and when I arrived on the Thailand side they told me I would have to go back to Laos if I wanted to have an exit stamp from Laos and I asked myself if a Laotian exit stamp is really worth cycling 2 kilometers back. But then I was an honest citizen and returned only to find the Laotian border police trying to sell me a new visa. It took some effort to convince them that I just came back to involve them and their stamp collection into my attempt to leave their country. As a Berliner that had a slight ironic taste. Anyways, it seems like it's never been easier to leave a communist country.